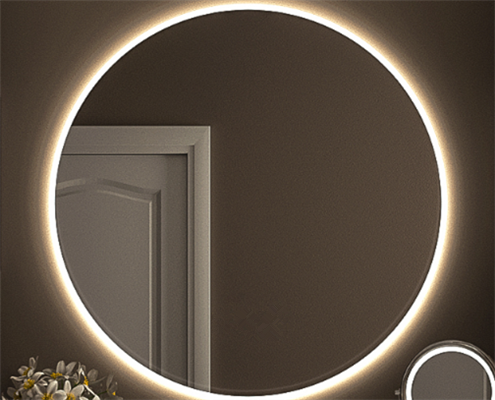 Model: GC-TBMFLD000
Frame: Frameless
Shape: Round
Mirror Size: Custom
TV size: Custom
Panel type: LCD with LED backlight
To view more similar products, please click this link: bathroom mirror TV.
Contact us for free shipping
Ship out in about 5 days
Overview
Specification
Mechanical Drawing
Overview
GC-TBMFLD000 is GECEY's round frameless bathroom mirror with a TV built-in. Although the shape is round, the diameter of the mirror is custom, such as 24″, 36″ and so on.
The screen size and the location of the TV behind the mirror are customs. In theory, the size of the TV can be from 10″ to 110″. In fact, plenty of display products can be placed behind the mirror, such as a monitor, all-in-one computer, and so on.
If you need the GC-TBMFLD000 with different functions, please feel free to tell us. The functions depend on the control boards the GC-TBMFLD000 uses. If it uses the smart control board with an android system, you can use it to play advertisements.
GC-TBMFLD000 is frameless. The touchscreen and the LED lights are optional.
Specification
Mechanical Drawing