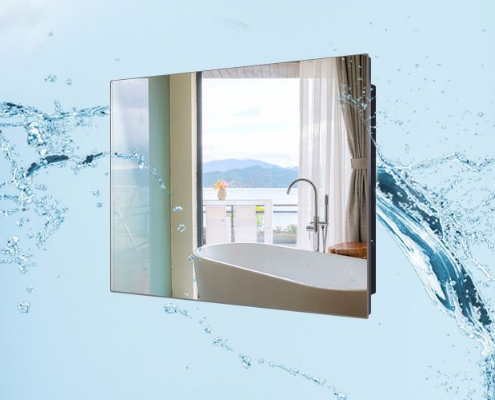 Safety
Fashionable and Elegant Design
Low radiation, good for health
Cannot be easily damaged
No infrared, doesn't attract flies
Install easily
Save power and money
Green, environment friendly
Contact us for free shipping
Ship out in about 5 days
Overview
Specification
Mechanical Drawing
Overview
GECEY is know for its world class, high quality TVs that compliment any living room, bedroom or home spa. Whatever your TV requirement, we've got one for everyone. Our unique and sophisticated bathroom TV is sure to enhance the vibrant interiors of your bathroom, taking luxury and entertainment to the next level. Similar with the touch screen TV, the bathroom TV can also has the touch function. 
Sleek design 
The GECEY bathroom TV is unlike any of its kind. Its superior and attractive design is a perfect add on to your bathroom's decoration. These sets come with easy installation guidelines. 
Adjust the angle 
With a wide range of TV sizes to choose from, you can pick one that's a best fit to your utility room, whether you're looking to install it near the sauna, bathtub or shower. To maximise your viewing pleasure, you may also adjust the angle of the TV. 
Front mirror  
This incredible bathroom TV is easy to start, with its smart functions designed to ensure safety of the person operating it. Who needs a mirror when your TV can turn into one? With its unique and special mirror at the front, this TV also allow you to free out mirror space in your bathroom. 
Sophisticated technology 
Its high performing technology allows you to connect to wifi or bluetooth when you need to. With its in built waterproof technology, you don't have to worry about damaging the set. Also, this ultra smart TV is a touchscreen device, letting you operate it without a remote or buttons if you like. Whether you're in the mood for YouTube or Netflix, you can now make your daily bathroom routine entertaining with this 4K ultra HD android device, that lets you install all your favourite apps for continent use. 
Concerned about radiation? 
You should know that our bathroom TV sets are extremely safe to use, emitting low infrared waves and radiations. Thus promising not to damage your eyesight and health. We also care about Mother Nature. So we went the extra mile in constructing a product that's also environment friendly. 
Affordable prices  
Wondering how much an amazing bathroom TV may cost you? Well, GECEY has always been a go to brand for people looking for television sets and monitors, as we offer great products at unbeatable prices. By cutting down unnecessary wastage, we're able to bring to you technology at its best price. 
What our customers have to say ?
With over 10 years of experience in the television industry and selling our products worldwide, we've learnt how to make happy customers by giving them what they want. We take our customers feedback seriously and work towards bettering our clients experience. Our products have always been appreciated and greatly loved by the users for its elegant designs and superior technology. Our bathroom TV has specially been liked for its innovative features and impressive picture quality, that promises vivid image display. Our prompt and excellent after sale services are very well appreciated by customers. Should you have any issues with our product, we're just a call away. So why wait? What better way to pamper yourself than getting a TV installed in your bathroom?
Specification
Mechanical Drawing