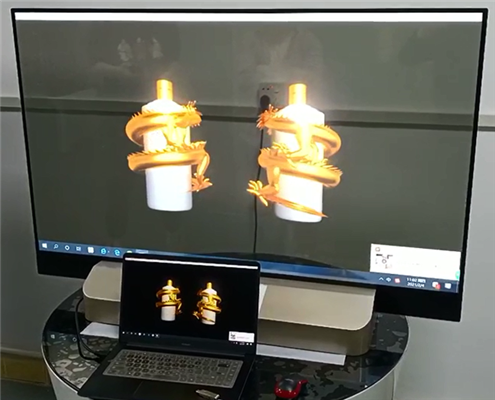 Desktop Transparent OLED Display
Model: GC-MTO550A0
Screen size: 55 inch, 1920 x 1080
Function: compouter monitor
Without touch screen
Interface: HDMI
View more similar products, please click this link: transparent OLED display.
Contact us for free shipping
Ship out in about 5 days
Overview
Specification
Mechanical Drawing
Overview
The desktop transparent OLED display is a desktop-type display with a see-through OLED screen. It's our first and very classic type. Its height is about 846.8mm in total which is similar to 55 inch TV. You can place it on the top of any desk or table. It's very convenient. GC-MTO550A0 has an internal power supply and the input voltage is 110VAC to 220VAC.
This means no matter which country you come from, you can use the such product normally. GC-MTO550A0 was designed to be used as a computer monitor at the beginning. You can connect it to your computer with an HDMI cable. The control board is located at the base.
Application Area
The application of GC-MTO550A0 is very wide. The desktop design makes it to be suitable for plenty of occasions. For example, the company can use it in their sample room to display their products, software, apps, etc to their customers. Mobile phone stores can use it to attract customers.
Specification
Mechanical Drawing
Fill out the form below and we will contact you as soon as possible!