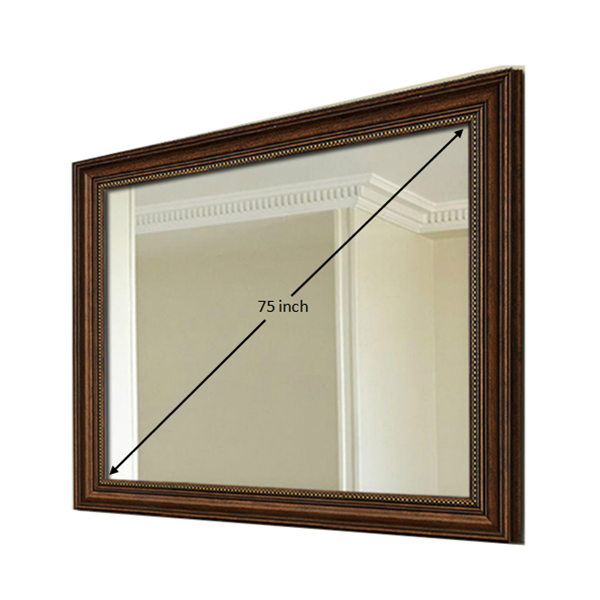 Model: GC-MT750NFI-XXX
Display area: 1650.24×928.26 mm
Screen Size: 75 inch
Connectivity Technology: HDMI, VGA, USB
Resolution: optional
Refresh Rate: 60 HZ
To view more similar products, please click this link: mirror TV.
Contact us for free shipping
Ship out in about 5 days
Overview
Specification
Mechanical Drawing
Overview
The GC-MT750NFI-XXX refers to the mirrored flat-screen TV the screen size of the television is 75 inches. If you need a smaller product, such as 70 inches and so on, just contact us. We can design and produce products that can meet your applications.
The most commonly used resolution of GC-MT750NFI-XXX is the 3840×2160(4K). This is caused by there being very few 1080P 75" LCD panels. For a television with such a big screen size, the 4K resolution is very necessary.
Size   commonly used resolution        general display area
75"              3840×2160                      1650.24 × 928.26 mm
The GC-MT750NFI-XXX is too big so it's rarely installed in the bedroom unless your bedroom is big enough. It's like you're in a movie theater when watching GC-MT750NFI-XXX. If you have a party in your home, then your friends would be very surprised that you have such a big and wonderful television.
If you need a litter smaller product, then you can check the following information of 70 inches. There are 2 kinds of resolutions and the sizes are similar to the 75-inch. We recommend the GC-MT750NFI-XXX if you can use both of them. This is because it's easier to get the 75" LCD panels.
Size   commonly used resolution        general display area
70"              1920×1080                     1549.44 × 871.56 mm
70"              3840×2160                     1538.88 × 865.62 mm
Specification
Mechanical Drawing