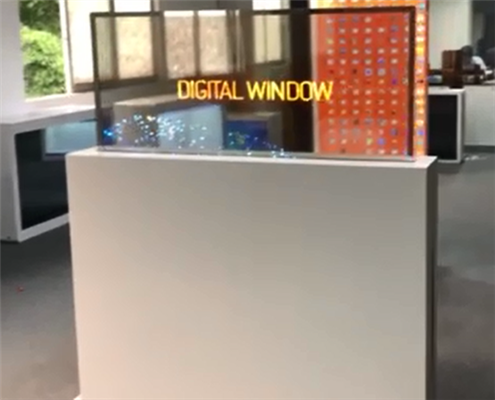 Automatic Lifting Transparent OLED Display with All-in-one PC
Model: GC-MTO55ALCV1
Screen size: 55 inch, 1920 x 1080
Screen direction: horizontal
Function: all-in-one PC
System: Android, etc
View more similar products, please click this link: clear OLED.
Contact us for free shipping
Ship out in about 5 days
Overview
Specification
Mechanical Drawing
Overview
The Automatic Lifting Transparent OLED Display with All-in-one PC is a very amazing product. Its screen is automatic lifting. Infrared remote control will be sent to you with such a product. Press the key of the remote, the transparent OLED screen can rise automatically and be turned on. Press another key on the remote, the screen can fall automatically and be turned off. It's very interesting.
The control board and power supply are hidden in the base. There is a handle on the bottom of each side of the product. That means you can move GC-MTO55ALCV1 to any place very easily. The input voltage of GC-MTO55ALCV1 is 110VAC to 220VAC. It can be used in any country.
The base of GC-MTO55ALCV1 is the first edition we designed. Its color is white. If you need other colors, such as black, etc, then we can also make them for you. We will design and make more fashion bases for such products in the future. If you are interested, please feel free to contact us.
Specification
Mechanical Drawing
Fill out the form below and we will contact you as soon as possible!