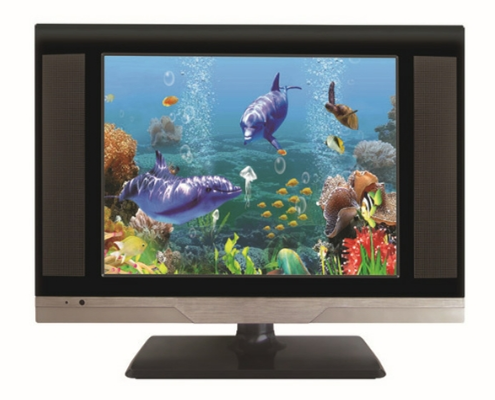 15 inch TV with 15.4-inch screen
Model: GC-T154BNA
Screen Size: 15.4 inch
Resolution: 1280 x 800
Refresh Rate: 60 HZ
Backlight: LED
Screen Ratio: 16:10
Viewing Angle:70/ 70/ 60/ 60
To view more similar products, please click this link: 15″ TV.
Contact us for free shipping
Ship out in about 5 days
Overview
Specification
Mechanical Drawing
Overview
GC-T154BNA comes with quite a lot of advantages that will make you consider it for use in your living room or other places. With a screen size of 15.4 inches and a display area of 331.2 x 207 mm, it is great for watching movies and feeling like you were at the cinema. You can use three different cables to connect it to other devices: with HDMI, VGA, and USB ports, you can plug in just any device to watch your favorite TV show or stream from your computer. Its display has a resolution of 1280 x 800, which will be enough for you to watch even movies with a lot of special effects: with three different color systems allowed (PAL, NTSC, and SECAM), everything will seem a lot brighter on this TV.
Its backlight is LED, which helps to get all the vibrant colors in movies and tv shows. The features of the GC-T154BNA make it a product that competes with televisions from expensive brands at a much lower price, without compromising on the quality of its screen or sound. The audio output has a frequency response of 100Hz-15KHz, at more or less 3dB, which will be just great for you to catch even the tiniest of sound effects from your favorite movies.
Its TV input allows for Digital TV, which is available in most countries and provides a better image and sound quality than the old types of TV signal previously used. With a VGA cable, the maximum it supports is 1920X1080 at 60Hz; if you're using an HDMI cable, you can watch anything within the following presets: 480i, 480p, 576i, 576p, 720i, 720p, 1080i, and 1080p. You can also plug it into your computer to watch Youtube if you prefer to spend your evenings watching fun videos or vlogs. This 15-inch TV will provide you with the best features at a low price and it's highly reliable, with a one-year warranty.
Specification
Mechanical Drawing