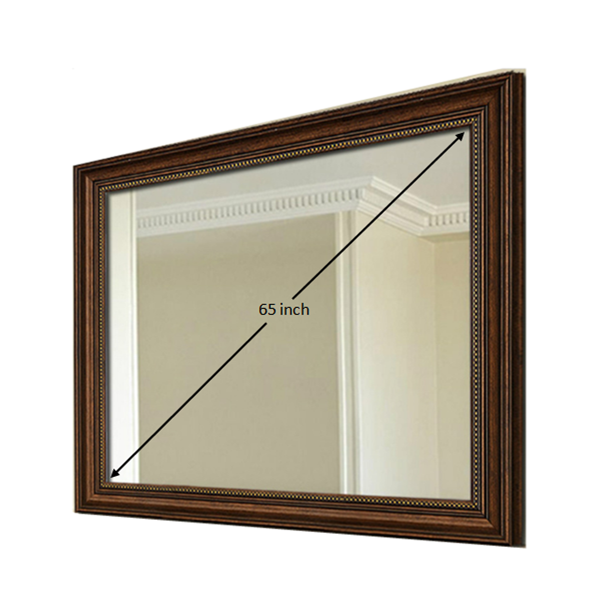 Model: GC-MT650NFI-XXX
Display area: 1428.48 × 803.52 mm
Screen Size: 65 inch
Connectivity Technology: HDMI, VGA, USB
Resolution: optional
Refresh Rate: 60 HZ
To view more similar products, please click this link: mirror with TV built-in.
Contact us for free shipping
Ship out in about 5 days
Overview
Specification
Mechanical Drawing
Overview
The GC-MT650NFI-XXX refers to the mirror flat-screen TV the screen size of the television is 65 inches. If you need a smaller product, such as 58 inches, 60 inches and so on, just contact us. We can design and produce products that can meet your applications. According to the screen size and resolution, there are 2 types of GC-MT650NFI-XXX. The main difference between them is the resolution: 1920×1080(1080P) and 3840×2160(4K). You can choose the best size and resolution from the following form.
Size   commonly used resolution        general display area
65"               1920×1080                     1428.48 × 803.52 mm
65"               3840×2160                     1428.48 × 803.52 mm
GC-MT650NFI-XXX belongs to the big-size television. It's one of the most popular television sizes. The followings are the resolutions and sizes of 58 inch and 60 inch. You can see that the sizes are similar to 65". Typically, all 65",58", and 60" can meet your application, but we recommend the 65". This is caused by there are plenty of suppliers of the 65" LCD panels. It would be very helpful to save time to get the GC-MT650NFI-XXX from the manufacturer.
Size   commonly used resolution        general display area
58"               1920×1080                     1270.08 × 721.44 mm
58"               3840×2160                     1270.08 × 721.44 mm
60"               1920×1080                     1316.9 × 740.6 mm
60"               3840×2160                     1317.31 × 740.988 mm
Specification
Mechanical Drawing