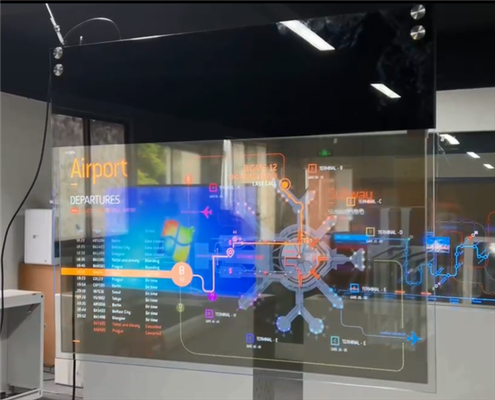 Ceiling Digital See-through OLED Display Signage
Model: GC-MTO55CHV1
Mount: ceiling 
Function: digital signage
Interface: HDMI
View more similar products, please click this link: see-through OLED display.
Contact us for free shipping
Ship out in about 5 days
Overview
Specification
Mechanical Drawing
Overview
Ceiling Digital See-through OLED Display Signage is a product we design for the occasions which need the suspended display platform, such as hotels, hospitals, airports, etc. Traditional hanging display products are all made of LCD screens. GC-MTO55CHV1 is a new concept product which is made by LG 55 inch OLED screen.
The control board, power supply, and other parts are located on the top base of the product. Similar to our other OLED displays, the input voltage of GC-MTO55CHV1 is also from 110VAC to 220VAC. That means it can be used in any country.
GC-MTO55CHV1 is commonly used as OLED digital signage. This is decided by its mounting method. It is suspended from the ceiling, so it doesn't have a touch screen and it can't be used as a PC monitor or all in one computer.
GC-MTO55CHV1 is one of our transparent OLED products. If you need similar products, please feel free to contact us. We can design and make custom products for you and we can also make them according to your mechanical drawing. The followings are some other products with videos for reference.
Application area
The application of GC-MTO55CHV1 is also very wide. As we have mentioned in the content above, it can be used in train stations, airports, hotels, and many other places. For example, it can be used to display the flight information to the passengers in the airport.
Specification
Mechanical Drawing
Fill out the form below and we will contact you as soon as possible!