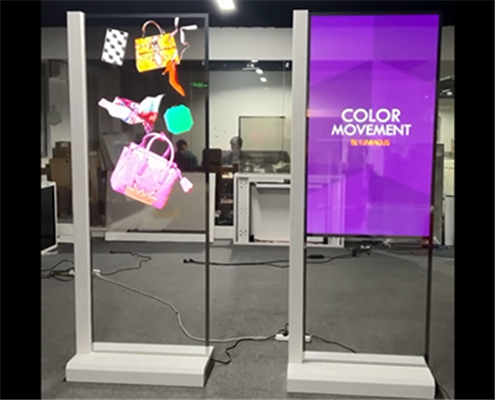 Standing Transparent OLED Digital Signage Display
Model: GC-MTO55C1V1
Screen size: 55 inch, 1920 x 1080
Screen direction: horizontal
Function: compouter monitor
Interface: HDMI
View more similar products, please click this link: transparent OLED display.
Contact us for free shipping
Ship out in about 5 days
Overview
Specification
Mechanical Drawing
Overview
Standing Transparent OLED Digital Signage Display is designed for plenty of commercial occasions. It is one kind of our transparent OLED products. Its outstanding features contain a vertical screen, an "L" type stand, etc. The total height of GC-MTO55C1V1 is about 2100 mm. That means it will be placed on the ground directly. The control board, power supply, and other parts are all installed in the bottom base.
The input voltage is from 110VAC to 220VAC. We will send different AC cables with the product according to which country you come from. The functions of GC-MTO55C1V1 are similar to GC-MTO550A0. By default, it's used as a computer monitor. However, the functions depend on what kind of control boards it uses. For example, if you need an all-in-one computer with a clear screen, then we will install the PC motherboard and other parts in the base.
The following list shows the optional functions for selection. You can choose the best one for your project and send the type to us.
Specification
Mechanical Drawing
Fill out the form below and we will contact you as soon as possible!